| Home | | Dry Erase | | Dry Erase-Plus Skins | | Dry Erase Stands | | Dry Erase-Plus Paint | | Movable Walls | | Services | | Site Map - Site Search | | Contact Us |
Toll-free 1-888-877-2261
---
Dry Erase Photo Gallery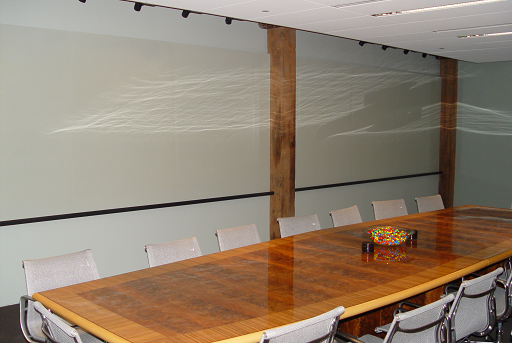 Paint-on dry erase walls are seamless. The surface is clear with a gloss finish. The dry erase area is above the black rail.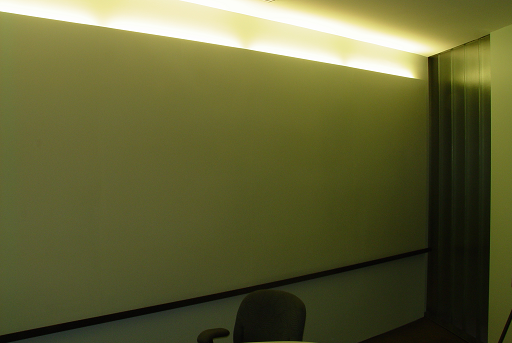 The corner on this wall is a 45 degree angle. The surface can be applied almost anywhere!
Dry Erase overlay skins are almost magical, transforming just about any surface into a dry erase surface (even outdoors)...
Shown here in transparent and white...
Dry Erase-Plus™ film has its own adhesive backing so it is quick and easy to install. This picture shows the transparent overlay. The picture shows the wall color on the left and the color of the wall through the film on the right. The film is designed to be easier to read from and to project upon. It is also resilient to sanitation chemicals like isopropyl alcohol. This product can be used as dry erase wallpaper, wainscoting protector for dining areas, kitchen areas, children's rooms, and hospital areas.
This picture has been darkened to show the completeness of the erased markings!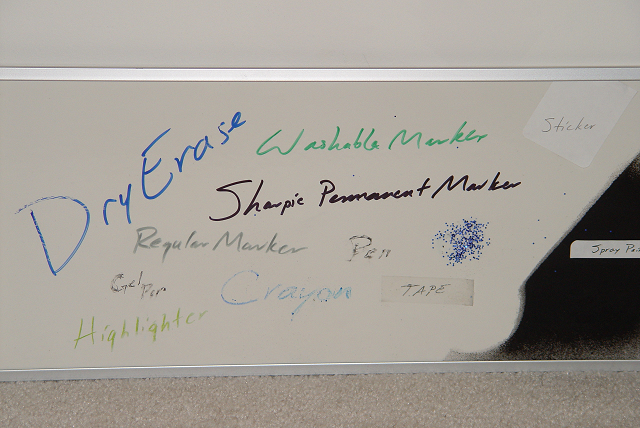 Here is the six-and-a-half week test of the JML Dry Erase-Plus™ Dry Erase Board product that is discussed in the web site. We tested a number of items that customers said that get on dry erase surfaces. The type of marking is written in its name. To the right is spray paint. The Elmer's® Glue has glitter in it to show its location.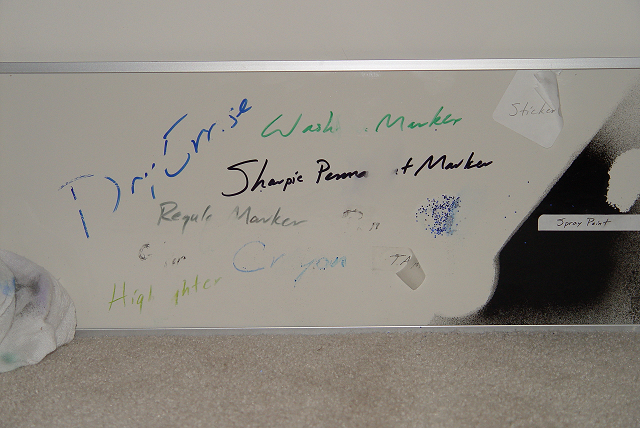 The markings were easily removed. All without ghosting. Outstanding!
The uses of our Dry Erase Skin are so numerous... Kitchens, Children's Rooms, and here in an Executive's Office, Early Childhood Center rooms, and an overlay chalkboard in a School.
Dry Erase-Plus™ Clear Overlay directly on painted wall. Optional molding can be added as this picture shows.
Mural Wall / Dry Erase wall (Glue and tape easily come off!) Over 200 linear feet of hallway murals at this site. When the building was finished, some parents of this early childhood center / preschool thought that the walls had a special finish to keep them clean. The dirt, pencil marks, and handprints do easily wipe off and it does always look brand new and clean!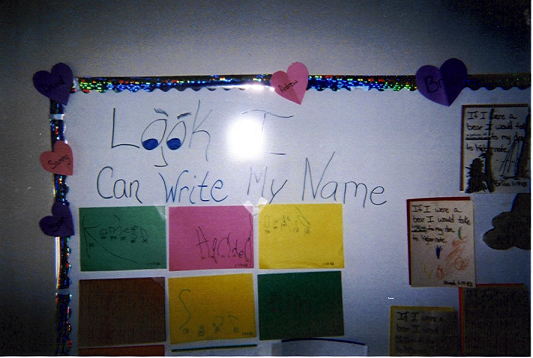 Classroom Display Section for the parents showing the students' achievements.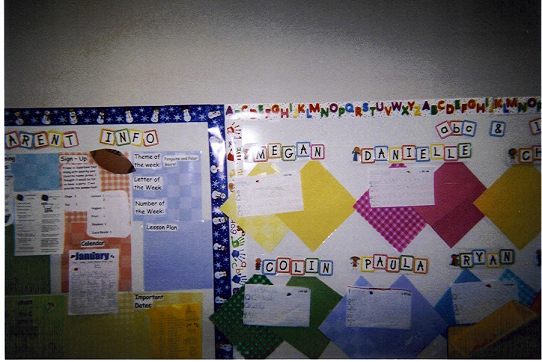 Here a board is divided into different sections by using a paper border. This display uses the dry erase board as a tack wall. Much safer using tape than push pins!
Chalkboard upgraded to a Beautiful Dry Erase Board using the white Dry Erase-Plus overlay Skin... saving time and money.
Return to Dry Erase Boards' Main Page
---