---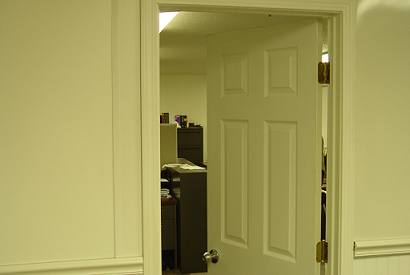 Movable Walls

The ultimate room divider!
On this page...

Features Semi-Permanent Rail Panels Flexibility Installation Overview Cost Effectiveness Pricing Information Request Form
On the next page... Moveable Wall Picture Gallery
JML has designed a moveable wall system unlike any in the industry... Looking for room dividers, partitions, temporary walls, reception areas, or display islands; our moveable wall system meets all of your room divider needs.
An actual wall that installs anywhere inside your room !
All of the walls look and feel like conventional walls;
yet its their design that makes the difference!
Moveable Walls
and Room Divider Partitions
Trackless Walls... Our semi-permanent walls are self supporting. Our unique system allows walls to be placed anywhere in your room. Trackless means you can set the walls any where in your room, and later change their location. Do you desire new walls that do not attach to the floor or ceiling. JML has the walls for you.
Our Track Walls are also self supporting... Partition your room in half for one event, then move the track to create larger or smaller rooms for your next event.
Modular Wall features include:
Dry erase panels... We have the best... Dry Erase-Plus™ dry erase surface and it comes complete with a Lifetime Surface Warranty. It even cleans permanent marker- so you never have to worry.

Glass... All of our glass products are tempered and all of them also accept dry erase markers just like our Dry Erase-Plus™ surface. We offer top sections of tempered glass and also Plexiglas / Lexan in full window panels, blocks, and pass-thru windows..

Doors... We offer single hung doors, double hung French doors, six panel hollow core wood doors, and metal doors... round knobs, lever style, ADA compliant... lockable, un-lockable... brass, silver... we build to your taste. Since the doors are modular you can move, add, or remove a door in just minutes.

Progressive and non-progressive panels.
Sound-proofing Walls... With STC's up to 50, we can sound-proof your walls to meet your sound-proofing needs. Presenters love our walls because our Dry Erase-Plus Dry Erase Board tops reflect their voice back into the room they are presenting while the wall core mutes the sounds from the other side.

Floor and Self-supporting Track Walls... You can add a section, move a section, or completely remove a wall in just minutes per panel. Move a wall inside a room, move a wall from one room to another, or move your wall completely to another building. These walls are the solution.

Installing track supports above the ceiling requires office down-time due to the construction of the added supports that are required for the ceiling to handle the weight of the wall- and when the room partition is retracted, the traditional unsightly tracks remain. Also, the room partition can only divide the room at that one spot. It becomes permanently fixed to that spot. If the space is leased, this requires landlord approval; and since it is attached to the structure, it stays with the structure even after you leave. In the accounting world it takes 31 years to depreciate.

With JML's floor supported moveable walls, every section is self-supporting and does not require costly above ceiling construction. Our walls easily glide to any location in the room. Place them either together or individually by themselves to fit your needs. Because they are not attached to any walls or ceiling, they depreciate in just 7 years (consult your tax advisor for the specifics on how this can work for you).

Durable... Solid construction, fire rating options that exceed national partition standards, and beautiful; JML moveable walls and room dividers are the answer. Solid wood trim, dry erase sections, paint-able surfaces or baked-on surfaces; JML moveable walls and room dividers are built to retain their beauty for years beyond even conventional walls.

Beautiful... Our walls can match your existing decor or change the look of your room. We offer walls with crown molding, chair rails, base boards, wainscoting, baked on finishes, paint-able finishes, wood finishes, regular wall finishes, dry erase surfaces, and magnetic surfaces. You may select from our line of wall designs or design your own. We gladly work with architects and design teams.

The ceiling is free from tracks and the temporary walls can be located anywhere in the room, or anywhere on your site!

The wall panel consists of an internal core designed to break sound vibration from traveling from the floor to the ceiling. Another layer, located inside the wall, is designed to stop one range of sound frequencies traveling from one room to the next. The outer layer, also attached to both sides, is designed to stop another range of frequencies. Together, this wall panel uniquely combines multiple sound reduction layers to keep each meeting room both quiet and attractive. Our walls can achieve STC's up to 50.

Ease of cleaning is important to you and therefore it is important to us. From our Dry Erase-Plus™ surface that erases completely every time, eliminating the use of cleaners, to baked-on-finishes, and vinyl clad surfaces. JML Moveable Wall Room Partitions as a easy to clean and maintain as they are beautiful.

The movement of the walls is remarkably innovative; the walls resist being moved when leaned on or pushed, but when the optional legs are pulled, each section simply glides across the floor. When the leg covers are removed and the middle of the legs are pulled, the wall simply glides across the floor. It is that easy to move our walls.

Extended warranties at time of purchase are available with qualified installers.

Panels with doors, windows, and Dry Erase -Plus! Progressive and non-progressive, each panel in the wall moves independently allowing numerous configurations. The panels are floor supported so costly above ceiling attachment of the rail is not needed. We offer panels up to 12 foot in height.

JML has designed a moveable wall system unlike any in the industry...

The moveable wall units can be used individually or in a series dividing an entire room or creating rooms.

This innovative wall is both modular and if a guide track is desired, it is not attached to the ceiling... it can be also be self-supporting. The wall can be used to divide a room into equal halves in the morning, a larger meeting space that afternoon, and then moved to another conference area for that evening. Your conference room will now always be the right size!

Building an entire floor of offices is now quick and inexpensive. Within just a few weeks, an entire floor of offices can be quickly erected with the beautiful look of high-end walls with our semi-permanent series; very clean installation.

Sections with Dry Erase-Plus™ dry erase surfaces can be seamlessly added to any wall allowing individuals who are using the room to have the best dry erase board available. Our dry erase surface can be seamless up to 100+ feet.

Individual sections can be used as reception centers, work stations, and display panels. Where you need a wall or room partition, JML moveable walls are the answer.

We offer two main types of movable walls:

Installation of the JML Semi-permanent Wall System is simple

and much quicker than conventional construction.

Imagine stacking giant Legos

®; that is how our modular system works. Each completed section has two components: a base and a top. Our modular top section rests on the top of the wall's base. To accommodate ceiling heights greater than 8', the top section is extended and a joining horizontal trim piece finishes the look.

At the very top and bottom of the wall, decorative trim pieces (crown molding and base boards) conceal any uneven-ness in the floor or the ceiling and the wall edges - creating a smooth look. Beautiful chair rail is added to conceal the joint between the top panel and the bottom panel. Once initially assembled, the wall can be moved with our special end supports as a complete unit or in sections accommodating various uses like creating different room sizes, partial partitions, traffic control, or re-placement of he wall in another room or building.

Installation of the JML Self-supporting Track System is also very simple

and it does not need above ceiling support.

The top track is supported by two end supports or attached to the ceiling, and the floor-to-ceiling panels are fed into the track. The weight of the panels rest on the floor. That simple! The track is covered by an optional crown molding trim piece to complete your top-of-line look with chair rail (on panels over 8 feet) and base board.

JML Wall Systems offer walls that are modular, demountable, and moveable. All of the walls look and feel like conventional walls; yet their design makes the difference. Our walls sections can create entire rooms, or add walls to existing rooms. If the wall is a partition wall that needs to be located in one position while in use and then easily removed at a later time, a decorative wall bracket with cover is installed in the existing wall; when the wall is removed, the look is an accent pillar (4" deep) where the removable wall sets. If the wall is to slide across the floor, there is one leg on each end of the wall which is where the wall is moved from. The leg has a cover which is the same height as the chair rail and offers a shelf for plants or decorative accents.

This area can also have a built-in top, opening up to store markers, erasers, and paperwork. Our Dry Erase-Plus™ dry erase board has a tempered hardboard backing that reflects the speaker's voice back into the presentation area allowing the presenter to speak in a comfortable volume when writing on the board. The wall's core absorbs the sound from the other room. The chair rail has an optional top level which holds dry erase markers, erasers and the like. The dry erase board is Dry Erase-Plus™ where marks from dry erase markers, permanent markers, spray paint, tape, and a variety of other items easily come off (see our Dry Erase Test on this web site!).

JML Moveable Wall System is truly the Ultimate in Room Dividers. See a team install their Semi-Permanent Wall or their Track Wall.
T

he cost of installing a ceiling supported track partition wall goes well beyond the product purchase price. To support the track, above ceiling supports and other construction (depending on the manufacturer) must be made involving additional costs and downtime. Where the track is set, is where the partition will hang. Ceiling mounted track partitions limit the partitions use; self-supporting track partitions and trackless partitions give you incredible savings.

Our Track Wall Panels are floor supported. Expensive track installation is part of the past with JML Movable Partition Wall Systems. The tracks can be mounted to the ceiling or on end pillars significantly reducing installation costs. Partition walls are affordable with JML.

Our Semi-Permanent Modular Walls divide your rooms without restrictive and unsightly tracks. Plus, all of our wall products are designed to be more quickly installed than building entire walls on site. If you can stack gigantic Legos ®, then you have the idea of how to assemble our walls. All product lines have complete pictorial instructions, as well as, a toll-free installation hotline. These walls can divide your room into numerous sizes, can be moved into other rooms, and even move with you to your next location.

Permanent walls are depreciated over 31.5 years; whereas, re-locatable walls can be depreciated over only seven (7) years (per the modified Accelerated Cost Recovery Schedule (ACRS) - contact your tax advisor for specifics regarding your particular circumstances).



Lifetime of Use
JML Products and Design understands that room uses change. Our wall's modular design allows you to change your space to adapt to your needs. By adding wall modules, you can quickly add a door, a window, or built-in dry erase tops; or move your wall within the room to create the correctly sized room for every use. And if you need to divide another room, your Moveable Wall can easily divide that new space too. It is very convenient to add, modify, or move your walls as your room usage changes or as your business expands; they can even be moved with you if you move to a new location.
Alleviate the expense, time, trouble, relocation, and mess of conventional wall demolition and reconstruction. With JML Semi-Permanent Moveable Walls, entire floors of offices can be quickly erected and in place creating a smooth and quick space reconfiguration.
Enjoy the convenience and ease with JML Moveable Walls!
Pictures
Timeless, beautiful, functional... JML has the moveable wall partition for you! With moveable wall partitions you can divide your meeting space or conference room into almost any size. Talk about performance... our walls easily move to create smaller or larger areas within a single room; plus, it can re-locate to another room or building if you decide to divide that room too. These walls are modular so they are easier to install, change, or add-to; they are demountable so they are removable and relocatable. Quickly move your partition wall within a room by simply gliding it across the floor! With our sound reduction core, this innovative multi-functional moveable wall contains sound absorbing layers (up to 50 STC). We manufacture every wall to your specific specifications so you can have Dry Erase-Plus™ dry erase board writing surfaces, glass surfaces, doors, baked finishes, paint-able surfaces, pass-thru, windows and much more... creating the ultimate room divider.
JML Moveable Walls are conventional looking walls with all these advantages:
Every Semi-Permanent Wall stands on its own.

Install walls quickly without construction downtime or expense.

Self-supporting allows track-free ceilings and floors.

High durable walls give the look and feel of traditional walls creating beautiful space.

We make stationary walls and walls that also slide allowing you to quickly change the size of any room.

Every wall section is modular and can be interchanged.

Wall sections can be solid walls, doors, windows, pass-thru. We manufacture to your desires.

Dry erase sections built into the walls... the ultimate in look and performance.

Need quite rooms? Our walls offers multiple layers of multi-dimensional soundproofing up to 50 STC.

Every wall section is demountable so it can be easily installed and moved if desired.
™, our walls simply fit into each other. Easy to compile and take apart. Once assembled, the wall "locks" together.

JML understands the monetary investment that is necessary for building office space. Our walls stay with you. If you reconfigure your office space, or move to a new location, JML Walls travel with you. Your investment is secure. Movable walls depreciate in just 7 years (contact your tax advisor for details regarding your situation).

Every completed wall section can be stationary or moveable.
Our semi-permanent walls are designed to stay where they are assembled, be unassembled when desired, then assembled again in a new location.

Our self-supporting track walls are designed to stay where you assemble them and then be slid to anyplace on the floor.
All of the walls look and feel like conventional walls;
yet its their design that makes the difference!
Description

SKU #

Price per linear foot
Moveable Wall 8'
sku-MW8
starting at $185.00
Moveable Wall 9'
sku-MW9
starting at $195.00
Moveable Wall 9+'
sku-MW+
starting at $210.00+
---
For all of your Moveable Wall needs
Partition Walls

Trackless Wall Systems

Demountable Walls

Room Dividers

Modular Walls

*Perlitecrete® is a registered trademark of MichaelHeiman.