---
Dry Erase -Plus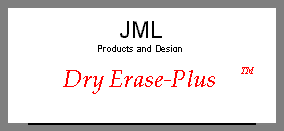 Graphs... Grids... and Logos
Dry Erase -Plus products set the highest mark in the industry at incredibly low prices.
Dry Erase -Plus can place graphs, grids and logos under the erasable surface. This gives you lines and images that are permanently under the surface. While Dry Erase Markers, Regular Markers, Permanent markers, tape, glue, spray paint, pens, pencils, finger paint, crayons… all easily wipe clean ! We offer four-color printing up to 4' wide x 10' long.
Call us toll-free at 1.888.877.2261 Internationally 1.816.728.2261
Click on the image below for a zoomed-in look at a
Dry Erase-Plus Infused Grid.

Already have a graphic or lined surface?
Simply purchase our transparent overlay and instantly make your surface dry erase!
---
| Home | | Dry Erase | | Dry Erase-Plus Skins | | Dry Erase Grids / Logos | | Dry Erase-Plus Paint | | Movable Walls | | Services | | Site Map - Site Search | | Contact Us |
About Brochures Ceramic on Steel Chalkboard Replacement Clean Dry Erase Convert Chalkboard to Dry Erase Dry Erase Boards Distributors Dry Erase Photo Gallery Dry Erase Plus Skin Dry Erase Pricing Dry Erase Overlay Dry Erase Paint Dry Erase Skin Dry Erase Skin Installation Guide Overlay Installation Guide with Pictures Dry Erase Pricing Dry Erase Selection Executive Summary Feedback Graphs, Grids, and Graphics Home Information Request Form Installation Dry Erase Wallpaper Installer Contact Form Links Magnetic dry erase Mastheads Movable Walls and Room Dividers Movable Wall Partitions Movable Wall Picture Gallery News Perlitecrete Porcelain on steel Price Savings Calculator Semi-Permanent Movable Wall Installation Services Track Partitions Wall Installation Website Inquiries
Installation Dry Erase Plus Skin for Chalkboards, Metal, Glass, Plexiglas, Upgrade Dry Erase Boards
To contact us
Click on our Company Logo:
JML Products and Design

Manufacturer of

Dry Erase-Plus™ Dry Erase Skins, Dry Erase Overlays, Dry Erase Replacements, Chalkboard Replacements, Board Resurfacing, Writeable Mural Walls, Dry Erase Paint, Magnetic Dry Erase Boards, and Movable Wall Partitions Room Dividers

Home Office Dry Erase Boards... any size or coordinating color

School Dry Erase Boards... upgrade quickly and economically with one of our overlay products Preschool Early Childhood Centers Elementary Public Private High Schools Colleges and Universities Classroom Dry Erase

Office Dry Erase Boards... for that professional clean look after every erasing

Dry Erase -Plus Skins, Overlays, Replacement, and Upgrade is available in white and transparent.

Dry Erase -Plus is manufactured in the United States.

Telephone

Voice

Toll free 1.888.877.2261 Local to 816 and 913 area codes 816.728.2261

International 1.816.728.2261

Fax

1.816.524.8490

Electronic mail

General Information and Sales:
Sales@JMLProductsAndDesign.com
Webmaster: Webmaster@JMLProductsAndDesign.com
Comment Form:
Click Here

Dry Erase-Plus

™ is a trademark of JML Products and Design. Perlitecrete™ is a trademark owned by MichaelHeiman.


Copyright

© 2007 by JML Products and Design All Rights Reserved

Dry Erase -Plus is patent protected.

Dry erase paint for writable walls is patent protected.

Dry Erase-Plus™ Easy-read™

Manufacturer / Distributor