| Home | | Dry Erase | | Dry Erase-Plus Skins | | Dry Erase Grids / Logos | | Dry Erase-Plus Paint | | Movable Walls | | Services | | Site Map - Site Search | | Contact Us |
Toll-free 1-888-877-2261
---
Dry Erase -Plus
Lifetime Warranty Available in White or Transparent Seamless up to 100 feet Long
on this page...

Features

Colors

Savings

Dry Erase Comparison
on another page...
Executive Summary

Photo Gallery

Grids, Lines and Graphics

Pricing & Cost Savings - see how quickly it pays for itself !

Installation Guide for Painted Surfaces

Installation Guide for Chalkboards, Metal, Glass, Plexiglas, Upgrade Existing Dry Erase Boards

Skins & Overlays
Our Dry Erase products are durable, dent-resistant, accepts tape, magnets, come in assorted sizes, and are available in a rainbow of colors. Permanent markers, tape, glue, spray paint, pens, pencils, finger paint, crayons… all easily wipe clean !

Our customers came to us for a solution. Have you ever seen white boards that have had too much cleaner (or water) placed on them or have been scratched? The water gets behind the surface, it wicks and absorbs into the backing, and then the surface swells, pops, and discolors. Or someone who has an expensive porcelain marker board that got bumped and now has a dent and the porcelain popped off? Then there is always someone who mistakenly uses the wrong type of dry erase marker, or grabs a permanent marker, crayon, tape, sticker, gum tack, or even a pen, and then the board becomes permanently damaged? Our customers asked for a product that solves these problems; plus, is low cost, resistant to graffiti, easy to install, and can be used as an overlay on their existing writing surfaces - saving them even more money.

JML's

Dry Erase-Plus™ surface answers all of these needs plus more. Instructors and teachers can now use tape or magnets on this scratch-resistant, dent resistant surface to place helpful materials or displays directly on the surface. Its unique properties allow it to be used as a write-able projection screen. Now instructors can write directly on the easy-to-read surface filling in forms or accentuating information, and then quickly erase the markings. Now you can have "Mural Walls" for pre-school students (who will write with anything!), inexpensive chalkboard upgrades for older aged school children (where readability is a must), and seamless dry erase surfaces for corporate meeting spaces up to 100 feet long... all for a low, direct from the manufacturer, cost. Our surface also offers anti-ghosting, giving you a picture perfect surface after every cleaning!

See some of our pictures in the Photo Gallery.

Dry Erase-Plus™ dry erase surface is manufactured at an amazing 150% thickness (most surfaces are only 2 mils) and, by our customers' requests, is now also available in only the skin with a quick to apply adhesive backing. So durable it can be used indoors and outdoors. Dry Erase-Plus™ is such the perfect dry erase surface, that dry erase markers, regular markers, Sharpie permanent marker, crayons, and other writings that destroy most surfaces like spray paints easily wipe off. Anti-ghosting even after months, our surface is designed to deep clean with just water so our customers can clean without traditional cleaning products! Anti-graffiti. Save money on both the cleaners and maintenance time; this product will stay clean with just an eraser and water on a soft cloth!

Magnetic and/or Use Tape!... Remove the liability issues of push pins and stick pins, and eliminate the maintenance issues of the pins getting in vacuums ruining belts, bags, and rollers. Now, tape and magnets place your presentation materials directly on the writing surface keeping everyone's attention on your subject matter. Our magnetic surface is even dent-resistant!

Projection ... Dry Erase-Plus™ is the perfect projection quality surface. JML's Dry Erase-Plus™ has created the writeable surface that the projection users has been searching for! Use it as an overlay. Have a projection surface, that is writeable, all in one!

Many schools and organizations upgrade their chalkboards with our chalkboard overlays! With your existing molding (we also have replacement molding available), the upgrade takes about 20 minutes. It is beautiful, and the most cost effective. Non-profit companies specifically asked for this feature.

Dry Erase-Plus™ is also available on our Movable Walls for the ultimate in room dividers.

Seamless... Our flexible skin is manufactured both 4 feet wide and 5 feet wide with lengths up to 100+ feet long. Wrap your entire room in seamless dry erase!

Transparent... Now the color of the wall shows through. Transparent, durable, seamless Dry Erase-Plus™ applies directly onto your existing wall or board, allowing the wall color, graphs, logos, and words to be completely visible. This is an architect's dream!

Use tape! Yes, our surface accepts tape so you can simply tape up documents or anything else and quickly take them down.

We help you keep your presentations sharp!

Durable with a life-time warranty. This surface offers all the benefits:
Scratch resistant

Dent resistant

Chemical resistant

Graffiti resistant

Bacteria resistant

Stain resistant
Dry Erase-Plus™ is available as a skin, or attached to a 1/8 inch to 1/2 inch thick hardboard backing. Based on your application, the boards come framed or un-framed. These options accommodate direct wall applications, inexpensive chalkboard upgrade overlays, or new wall mounted boards; indoors and outdoors. The surface is available in any width up to five feet and up to 100 feet in length. Need a seamless covering 3 1/2 feet wide and 16 feet long? We have it!
You have come to the right place! You have found the right product.
More Benefits...
Installation of upgrades and mural walls
Our dry erase system will apply directly to existing chalkboards, damaged dry erase boards, or walls. The process is simple and quick with our pre-adhesive backed surfaces. Most maintenance personnel can easily cover existing chalkboards in about 30 minutes or less, or install a mural panel on a wall in about 15 minutes or less. There is also a toll-free hot-line to speak with an experienced installer.
We also have our Dry Erase-Plus™ surface in transparent! Your wall color will beautifully show through our transparent dry erase surface. You can also order your choice of colors for us to make a Dry Erase-Plus™ dry erase surface for you. Graphics, logos, grids, and verbiage can be added before applying Dry Erase-Plus™ transparent to have the designs and verbiage permanently below the surface; now you can write directly over them and they stay when you erase!
Besides a low purchase price, your operational savings can be more in one year than the cost of upgrading all of your dry erase and chalkboard surfaces:
Dry Erase-Plus™ replaces both chalk boards (plus dry erase boards) and overhead projector screens, all at the same time.

Cover existing writing surfaces and reattach the moldings (trim, map rails, eraser trays) for bigger savings.

Because of the stain-free cleaning, your presenters and students stay more productive. Now they can stay focused on the information being presented instead of the ghosting on the surface or taking time to use expensive cleaners.

Unwanted marks simply wipe off. You will never have to replace this board due to someone mistakenly using another type of marker or graffiti.

Anti-glare allows the surface to be looked at for a long period of time without eye strain.

Because of the savings realized on just custodial labor, many schools and organizations who currently use chalkboards or traditional dry erase boards (that require extensive cleaning to remove ghosting) will realize a break-even during the first or second year. This is just the savings on the custodial hours! See how...
On-line Pricing Quotes, Dry Erase Product Line, and a Breakeven Analysis Example
Performance
Melamine
Dry Erase- Plus
Porcelain
Dry Erase Markers
Yes
Yes
Yes
Regular Markers
No
Yes
Some
Pencils
Some
Yes
Yes
Crayons
No
Yes
No
Pens
No
Yes
Yes
Permanent Markers
No
Yes
Possible Staining
Spray Paint
No
Yes
No
Magnetic
Some
Yes
Yes
Dent resistant magnetic
Yes
Yes
No
Scratch Resistant
No
Yes
Yes
Use tape
No
Yes
Yes
Anti-stain
No
Yes
On some items
Outdoor use
No
Yes
No
Allows dry erase surfaces of any color
No
Yes
No
Resistant to wick water
No
Yes
Possible Rusting
Interior and Exterior Use
No
Yes
No
Inexpensive
Yes
Yes
No
Maintenance

Maximum Length

Special Cleaner

8 foot

Water

100+ feet

Water / Cleaner

16 foot

Easy to Install Skins
-
Yes
No
Cut in field
Yes
Yes
No
Seamless Corners
No
Yes
No
Repairable Surface
No
Yes
No
Self Adhesive
No
Yes
Some / Heavy
Performance
Melamine
Dry Erase-Plus
Porcelain
4 Yes
21 Yes
8 Yes
**

Dry Erase-Plus ™ is a pending registered trademark of JML Products and Design.

Interested in distributing (click here) or completing your own projects? Contact us for fantastic savings and ideas! Toll-free 1.888.877.2261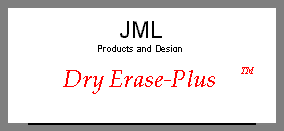 on this page...

Features

Colors

Savings

Dry Erase Comparison
on another page...

Executive Summary

Photo Gallery

Grids and Graphic

Pricing & Cost Savings - see how quickly it pays for itself !

Installation Guide

Skins & Overlays

---

About Brochures Ceramic on Steel Chalkboard Replacement Clean Dry Erase Convert Chalkboard to Dry Erase Dry Erase Boards Distributors Dry Erase Photo Gallery Dry Erase Plus Skin Dry Erase Pricing Dry Erase Overlay Dry Erase Paint Dry Erase Skin Dry Erase Skin Installation Guide Overlay Installation Guide with Pictures Dry Erase Pricing Dry Erase Selection Executive Summary Feedback Graphs, Grids, and Graphics Home Information Request Form Installation Dry Erase Wallpaper Installer Contact Form Links Magnetic dry erase Mastheads Movable Walls and Room Dividers Movable Wall Partitions Movable Wall Picture Gallery News Perlitecrete Porcelain on steel Price Savings Calculator Semi-Permanent Movable Wall Installation Services Track Partitions Wall Installation Website Inquiries

Installation Dry Erase Plus Skin for Chalkboards, Metal, Glass, Plexiglas, Upgrade Dry Erase Boards
To contact us
Click on our Company Logo:
JML Products and Design

Manufacturer of

Dry Erase-Plus™ Dry Erase Skins, Dry Erase Paint, Magnetic Dry Erase Boards, and Movable Wall Partitions Room Dividers

Home Office Dry Erase Boards... any size or coordinating color

School Dry Erase Boards... upgrade quickly and economically with one of our overlay products

Office Dry Erase Boards... for that professional clean look after every erasing
Telephone

Voice

Toll free 1.888.877.2261 Local to 816 and 913 area codes 816.728.2261

International 1.816.728.2261

Fax

1.816.524.8490
Electronic mail

General Information and Sales:
Sales@JMLProductsAndDesign.com
Webmaster: Webmaster@JMLProductsAndDesign.com
Comment Form:
Click Here

Dry Erase-Plus

™ is a trademark of JML Products and Design. Perlitecrete™ is a trademark owned by MichaelHeiman.


Copyright

© 2008 by JML Products and Design All Rights Reserved

Dry Erase -Plus is patent protected.

Dry erase paint for writable walls is patent protected.

Dry Erase-Plus™ Easy-read™

Manufacturer / Distributor